AI-Powered Platform Delivers Real-Time Security and Operations Updates – Featured in Financial Express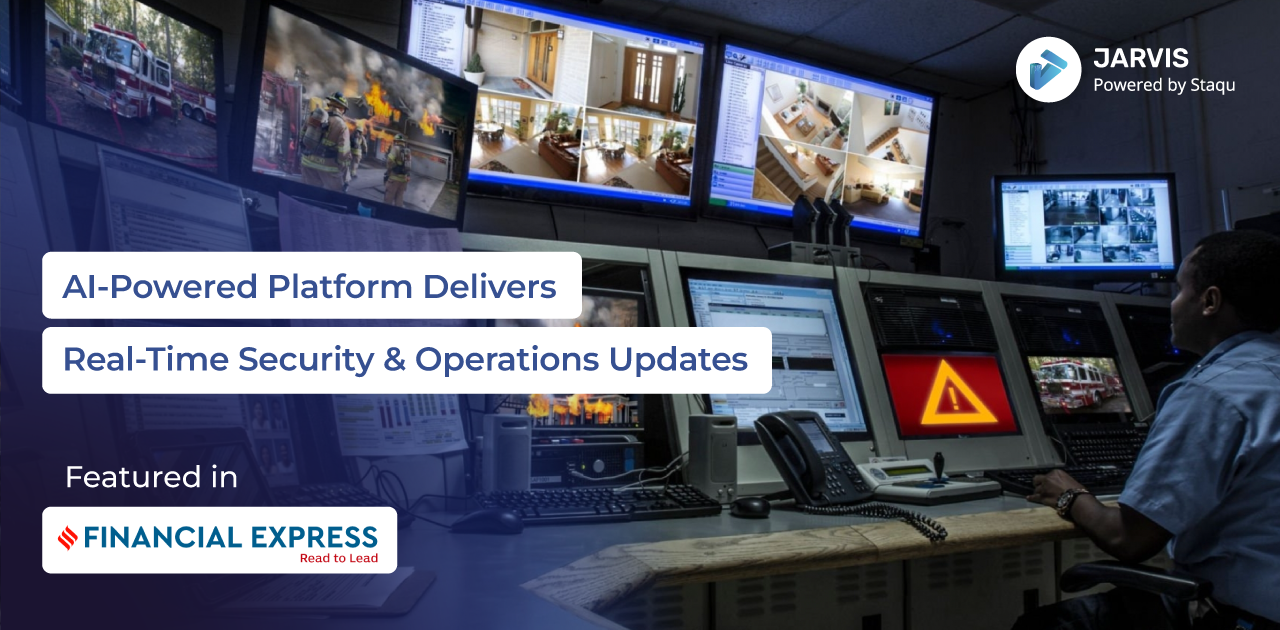 The world of Artificial Intelligence (AI) has undergone a remarkable and swift transformation, particularly in the recent few years. In this rapidly evolving landscape of AI, few stories resonate as powerfully as that of Staqu. Founded by Unity of Manchester alumni, Atul Rai in 2015, Staqu is pushing the boundaries of AI, predominantly in the field of video analytics and security solutions. With its star product, Jarvis, the company aims to harness the untapped potential of AI to transform surveillance technology into an advanced, proactive safeguarding system.
In an exclusive interview with FE TechBytes, Atul Rai, the co-founder of Staqu, shares his insights into the company's journey and the groundbreaking technology it has pioneered. As we delve into the conversation, we learn the innovative ways in which AI is being used.
Please introduce Staqu and its star product Jarvis to us in the simplest way
Staqu is an AI research firm that targets unstructured data that are available in the form of images or audio. These are called unstructured because until and unless someone is not listening or seeing you cannot get any information out of it.
Jarvis is our platform where you can integrate any camera feed and when say camera feed, it could be a CCTV camera, it could be a drone camera, or even a television or a video feed. And you can define what exactly you want to extract from it.
Jarvis has two modules; one is the security and safety module and the second is the revenue enhancement module. The revenue enhancement module is a relatively new thing in the form of cameras, I'll go to that. But safety and security are something which we started first with the state police forces wherein we took it to 9 state police forces across the country.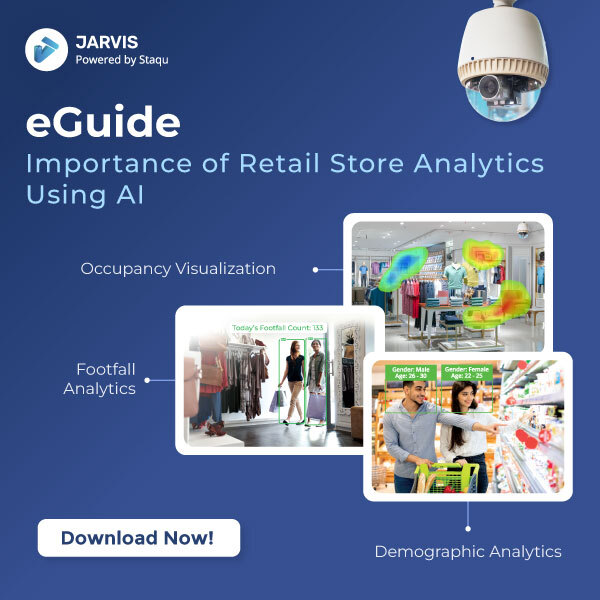 Download eguide
Revenue enhancement is relatively new in terms of the retail industry. The retail industry is fighting with e-commerce. E-commerce has all the data about its platform, but the retail industry does not have any information. For example, they do not know how many people came to their store, how many of them were male or female, and what could they have tried in their store. This is something that was missing for them and that is where we come in to help them identify these use cases for them.
So these can be questions like what is a footfall ratio in the store, what is a male or gender ratio, at what time is the queue length higher in the store, and likewise more.  So, this is something we are doing with the cameras and this is where we have all bigger retail brands working with us. And in security we have aspects like crowd analysis, violence analysis, cleaning, moping analysis or similarly more.
What do you mean by violence analysis?
We started this with UP prisons first. Let's say there's a camera, two people are fighting. You won't come to know of it until and unless there's an alert sent to you. This is where AI is now being trained. If any violence is happening in front of a camera, AI identifies these clips and starts sending alerts to the respective stakeholder or the Chief Security Officer of that particular estate. Fundamentally it's an activity detection thing since violence is an activity
Our technology also works on audio detection wherein of you say "Jarvis Help", it will automatically l send out an alert to the concerned command center.
What are some of the most innovative ways that Staqu has helped improve the security and safety of people and businesses?
Safety and security is the area where we are mostly working with the police forces and manufacturers like Adani power. So, there are different use cases for them. For police, we help them identify a criminal using facial detection. We are the first ones to start this and we are just referring the criminal data available.
What are some of the common use cases of Jarvis?
On the security side, there is facial recognition, violence detection, intrusion detection, crowd analysis, security and safety analysis. On the revenue enhancement side, we have footfall analysis, queue analysis, customer journey analysis, and likewise more.  These data can help an industry gets detailed insight into customer behaviour.
Tell us about the challenges that Staqu has faced so far?
There were many but to name one, it was at first difficult at first to pitch the overall idea of Staqu to someone. I remember when we went to the Punjab police to sell this facial recognition, they said it sounds more like a Hollywood thing!
 We were told by many police stations that they would like the try the product first. In the pilot run. Police managed to identify more than 300 criminals in two to three months of time span. This is how started getting references for different areas. In this process we understood the challenges and started integrating new features into the Jarvis.

What are some of the ethical challenges that Staqu faces as an AI company?
When we talk about AI it's always about data. And data is something for which privacy is the first thing that comes to your mind.  So, we've really worked on this part. We are the only AI startup company in India to have both American standard of privacy and GDPR which is European standard of privacy certificates with us. We have developed different kind of protocols for data security, data privacy and confidentiality.
How does your service differ from other video analytics solutions available in the market?
Staqu's video analytics technology stands out in comparison to other players in the market. Unlike competitors such as Hikvision and CP Plus, Staqu focuses solely on advanced audio-video analytics solutions, where else other players are more hardware driven. Additionally, some competitors provide video analytics as an add-on feature with no built-in audio capabilities.
Unlike other companies that require additional hardware installations, our solution thrives with existing camera setups and a stable Internet connection. This translates to swift adoption without new hardware costs or intricate deployment processes. Additionally, our cloud-based methodology accelerates the process of data storage, as we transfer feeds to the cloud for real-time processing, amplifying operational efficiency and enabling swift decisions.
Also we are camera agnostic, that means our solution can be seamlessly integrated on any camera such as —CCTV, drones, and body-worn cameras. This versatility opens a wide range of use cases and applications across industries, providing users with a comprehensive video analytics solution.
Eliminating hardware requirements reduces capital expenses in a big way. The cloud-centric model ensures data privacy, either through existing infrastructure or private cloud setups. Staqu's technology epitomizes efficiency, adaptability, and economic prudence.