How CCTVs Video Analytics is Revolutionizing Smart City Management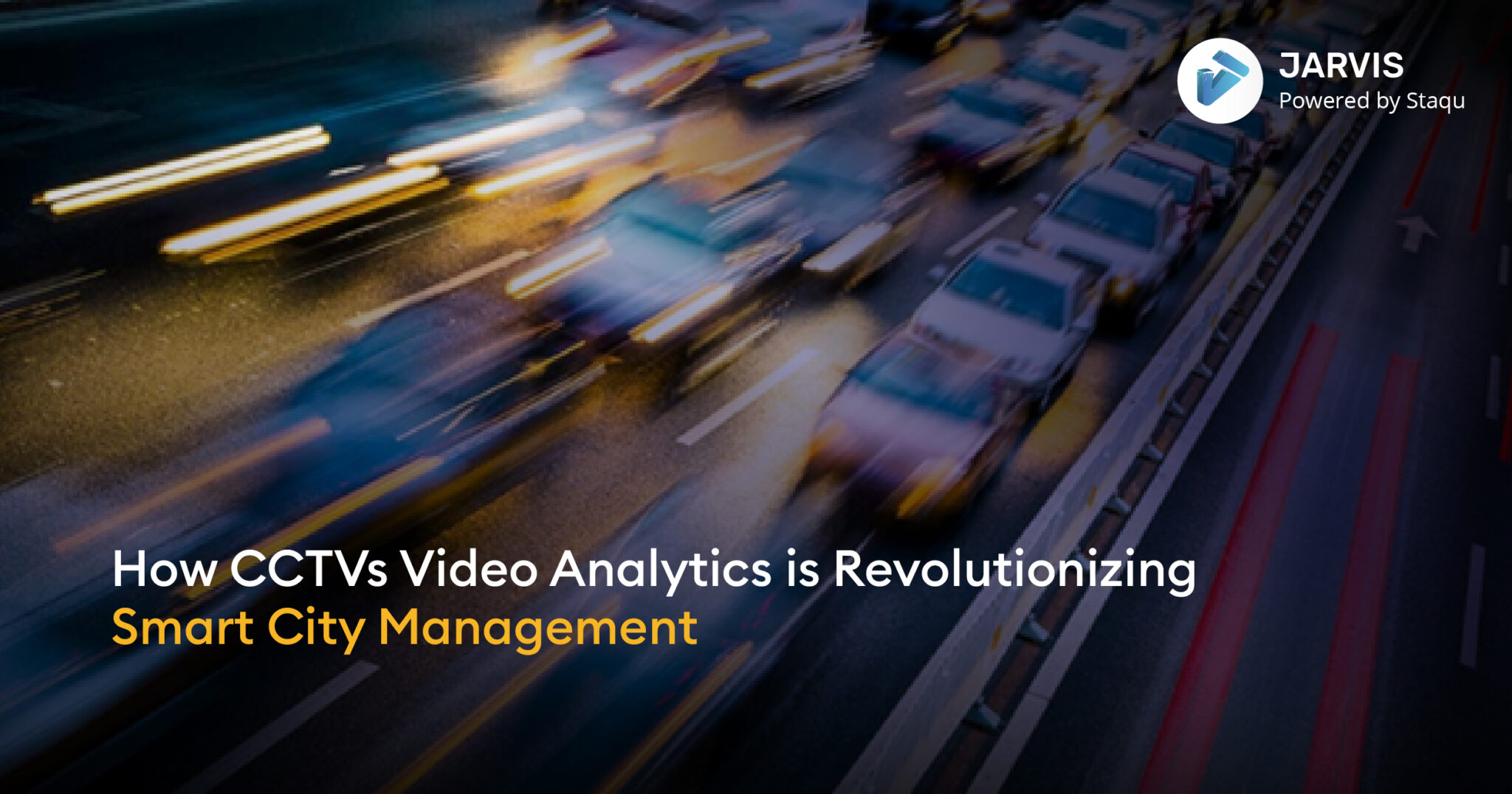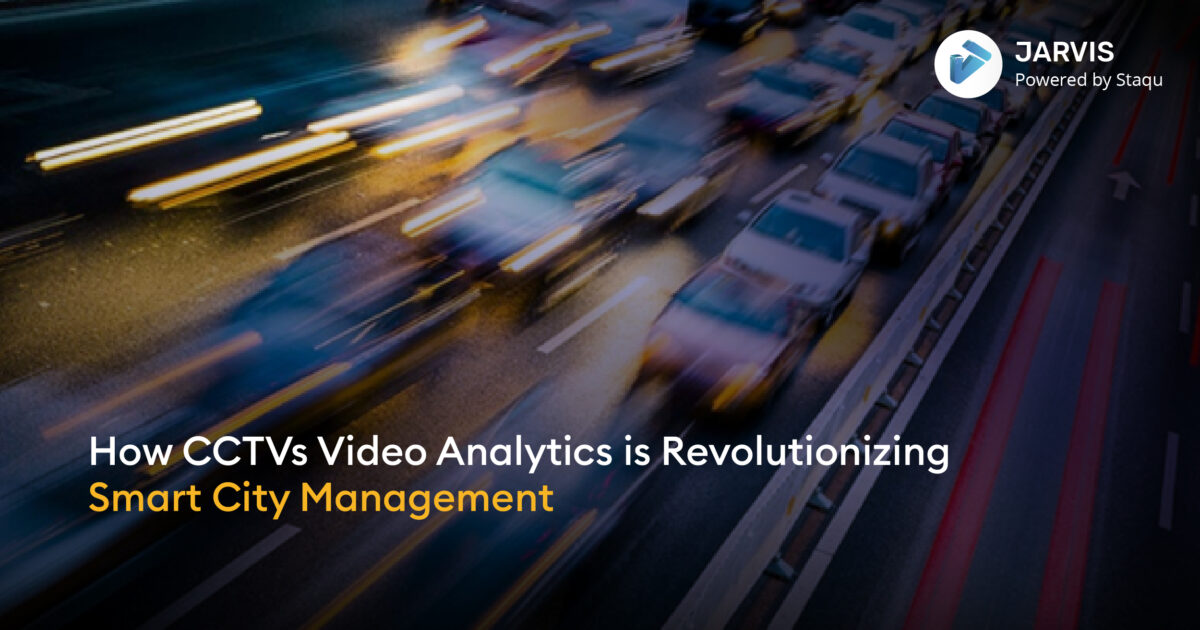 In this era of modernization, things are getting smarter day by day and technology is playing a major role in this. With changing technological trends on frequent basis and change in lifestyle of people it's time to make our cities smarter and convenient to live.
With the emergence of technologies like AI and blending it with video analytics provides innovative smart city solutions. These solutions ranges from security to traffic management and water distribution to public convenience.
Video analytics in smart city security
In today's modern era the citizens of cities are mainly concerned about their security. Real time video analytics along with artificial intelligence ensures that they are providing best in class security features that will help in building a better world through its innovative video analytics solution.
Here are some applications of video analytics provided by Staqu which ensures proper security solutions of smart city and its citizens.
· Blacklisted/whitelisted person: in this any unauthorized access to the area will be alerted so that only authorized person is allowed to enter the area. Any person not allowed to enter a specific area can be blacklisted for entering that location and when they are seen violating the no entry rules in camera feed, an alert can be generated.
· Region of interest: In this a particular region is selected by the user and this helps in ensuring maximum security in this selected area by sending an alert upon missing of any object or any intruder occurrence.
· People of interest: With a few simple clicks, officials search for a person of interest that tracks their movement within the city through real time video analytics. Face recognition is also a great component here.
· Virtual boundary: This feature allows to draw a virtual boundary line around the selected area it not only ensures banning of unauthorized entries but also ensures that no inappropriate object is thrown within the boundary.
· Fire/smoke detection: This feature allows to detect smoke and fire through video analytics with the help of real time analytics.
· Crowd management: This feature helps in managing the crowd gathered by counting the people and tracking them. Covid has made this detection of crowd of utmost important.
· Log management: in this feature entries of people accessing the area are maintained through time stamping. This works in real time video analytics and ensures entrance to only authorized access holders.
Video analytics in smart city traffic management
Rising traffic congestion and mishaps due to need of appropriate traffic administration got to be tended to with savvy arrangements like Video Management Software with coordinated video analytics that can viably help activity management. JARVIS is an innovative platform created by Staqu to provide centralized solutions for all these complex problems.
As more vehicles hit the streets each day, traffic blockage becomes a major issue in numerous cities around the world. So, it becomes critical to have quick and clever activity administration arrangements that can offer assistance to check traffic congestion.
Video Analytics can play a vital role in getting in-depth bits of knowledge into the day by day traffic, and these bits of knowledge can offer assistance in controlling congestion by directing the data to the activity administration support.
The proper use and application of video analytics can help in saving time and may help in controlling and maintaining traffic problems. Some of the applications of video analytics that can be used into the traffic management system are,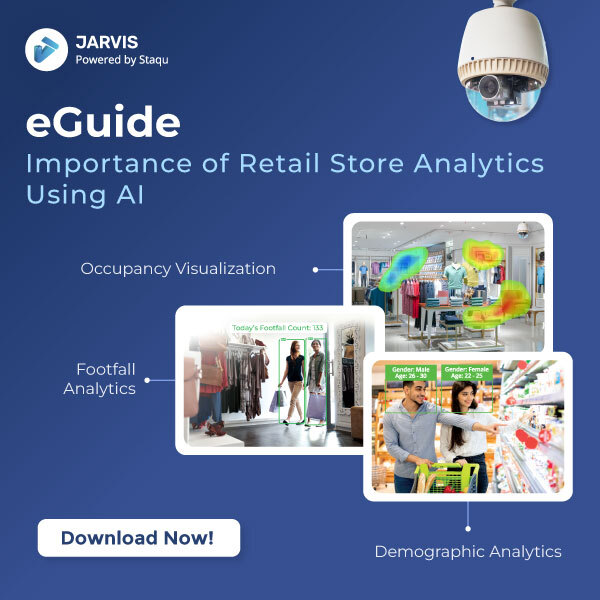 Download eguide
· Vehicle classification: It helps in detecting the type of vehicle whether it is a LMV, XUV or any heavy vehicle. This can help in managing traffic issues due to illegal vehicle entry problems.
· Vehicle / Pedestrian detection: Video analytics can help in detecting and differentiating between people walking on roads and the vehicles crossing nearby. This may prove a trump card in controlling accidents and ensuring pedestrian safety. It can give a round of count of all the vehicles & pedestrians on the road. This can also be used as a toolkit for building accident free smart cities.
· Proof of occurrence of an accident: It helps us to gather information and evidence in case of accidents which can help in smooth proceedings of case solving.
· Congestion detection: Video analytics also helps to detect the speed of traffic, whether the traffic is moving at slow rate or fast or halted and will ensure that there is no traffic congestion in the city which otherwise is not possible in camera for CCTV.
· Halted vehicle detection: It helps to detect the vehicles; those are parked in no parking areas using artificial intelligence.
· Vehicle number plate recognition: It is one of the most important feature of video analytics in traffic management that helps to identify & read vehicle number plate numbers for accessing all the data related to the vehicle, which can then be used for toll, traffic control, suspicious activities detection, etc.
· Video Panorama Stitching: To enhance the surveillance in public places, video analytics can be used apply video panorama stitching. In this a big no of pictures or videos are overlapped together which can have a clear high quality panoramic video with a big coverage are and can be helpful in solving different issues on the roads.
· Speed and Motion Analysis: This is the most widely used video analytics application worldwide. It is used to control over speeding on roads. It works on vehicle's projection, speed and trajectory analysis.
Here at Staqu we provide different approaches for an effective video analytics management software. Video analytics blended with AI makes security and traffic management in smart cities easy and convenient. Our software "JARVIS" helps in ensuring proper 360 degrees management of traffic and problems associated with security of the citizens. With increasing population and increasing traffic on roads there is a need of smart solution and video analytics is a game caner in solving problems like these and can make our cities smarter and greener ensuring proper and smooth traffic management.