The hospitality sector adopts video analytics: Olive Co-living onboards Staqu for JARVIS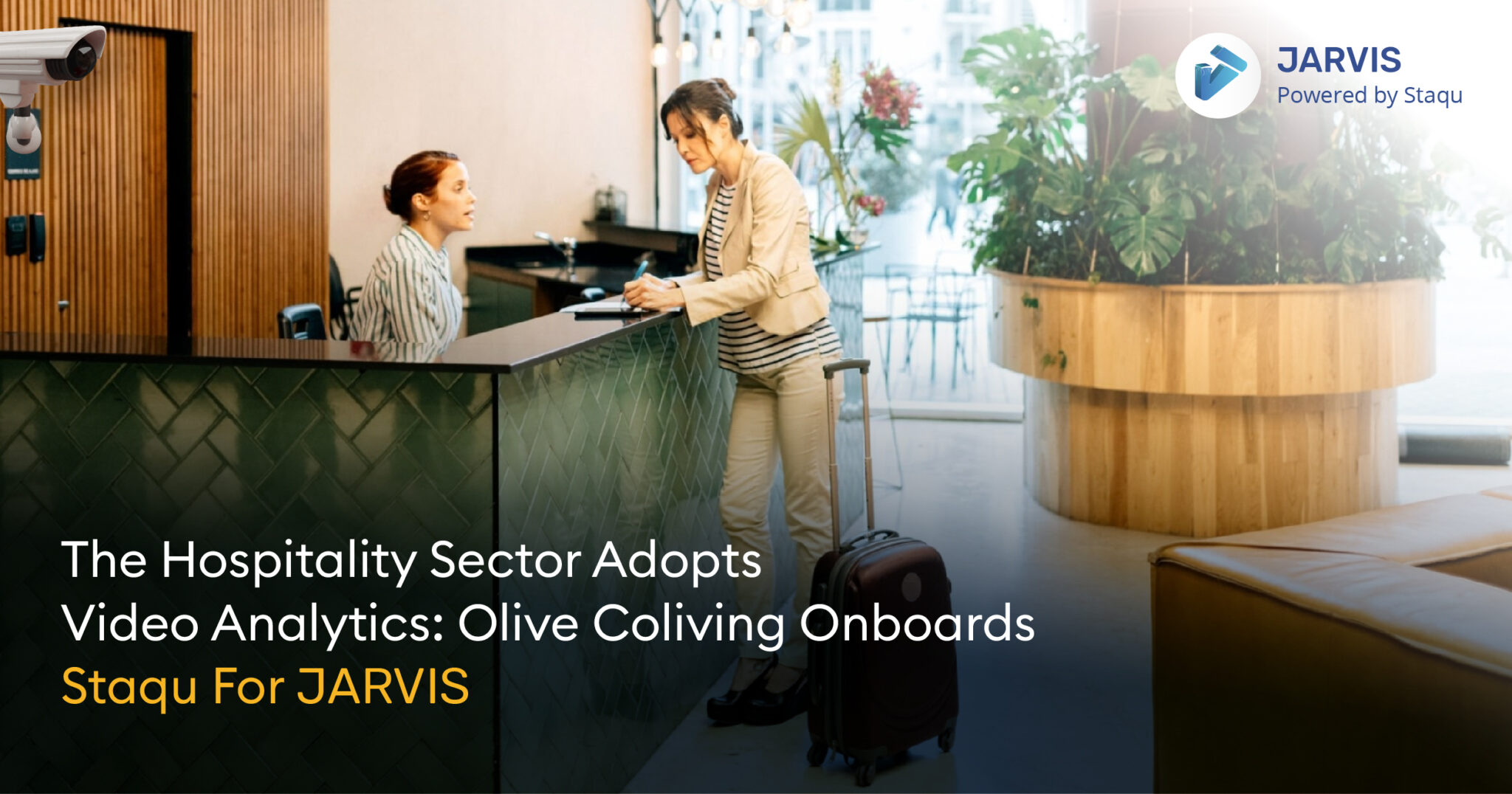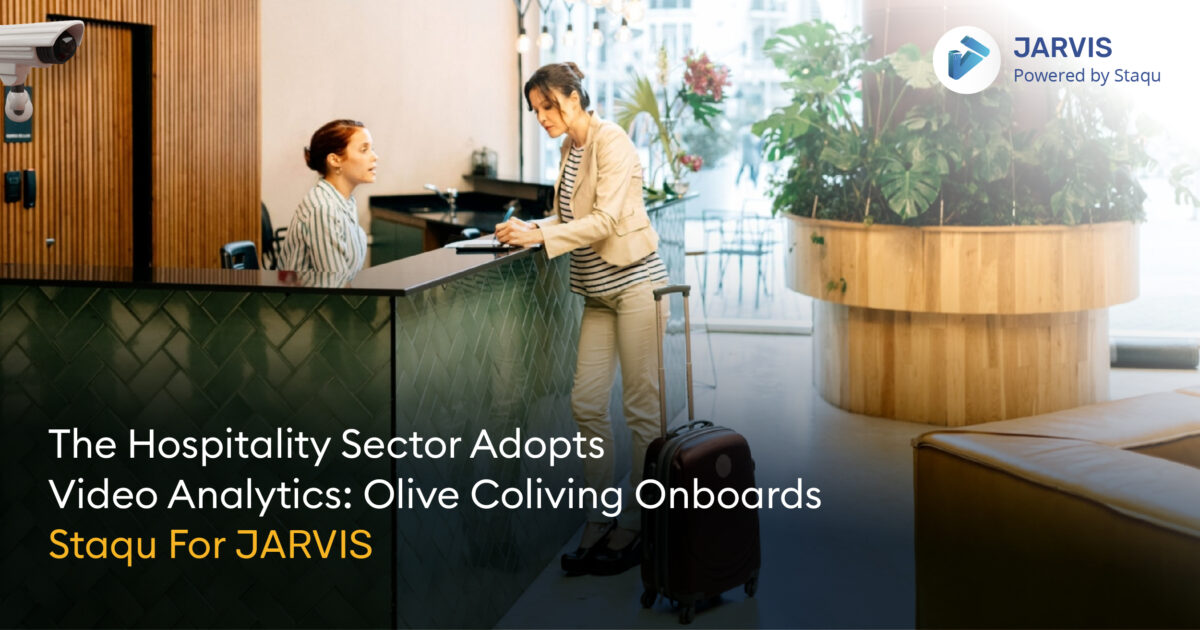 This blog explores how the hospitality sector is leveraging remote video analytics technology to access 24×7 property monitoring and receive real-time alerts in case of any non-compliance to improve guest safety and business processes.
It comes as no surprise that as an industry expands steadily, digital technology also expands and frequently acts as a stimulus for the industry's continued expansion. Deloitte's 2019 Travel and Hospitality Outlook for the US market provides a concise explanation of the connection between digital transformation and the growth of this sector by stating that "Cognitive Insight permeates the travel space." This entails utilizing digital technology to comprehend the context of the service and use it to prevent service interruptions, enhance client personalization, and more.
Many individuals are demanding greater security and health and safety standards where they lodge as a result of the lessons acquired from the pandemic. An annual growth rate (CAGR 2022–2026) of 10.8% is predicted for hotels, translating to a projected market volume of about $118 billion by 2026, according to a recent Statista analysis. In order to maintain their competitiveness, hotels and co-living spaces are encouraged to increase their facilities and invest in security systems and related services.
The benefits
Hospitality sector businesses find well-designed and strategically applied video systems a handy management tool since they provide video intelligence to business operators. The use of such technology becomes beneficial in many ways; specifically, it being cost saving. Businesses are now able to use fewer human resources and choose automated security, improving safety automation. Overall security, loss prevention, and risk management are intrinsically more effective due to the expanded visibility and control over all facets of their operations that increased video surveillance offers.
Hoteliers and co-living space operators have a competitive advantage over individuals renting out short-term rentals in their houses owing to effective video management and surveillance. In the latter cases, security is frequently nonexistent or, if it does exist, is likely rudimentary and unreliable. As a result, big business owners can effectively market and sell their video security systems as a differentiator for their establishment.
Aside from alerting managers if assets are taken from their property, intelligent video systems will also enable the swift detection and thorough documentation of potentially risky situations to aid in future investigations. Perhaps even more crucial is the ability of AI and video analytics to detect incidents before they occur, ensuring that employees and visitors feel safe wherever they are on the hotel grounds.
Following this, Olive Co-living has teamed up with Staqu to deploy our V-SaaS product JARVIS. The cutting-edge AI-powered video analytics tool JARVIS is dedicated to reducing human labor to a minimum while maximizing operational efficiency. Now that JARVIS is integrated with Olive Co-living, it can recognize and notify any intrusion in real time, alerting the appropriate stakeholders in the process. The same strategy will be used to detect overcrowding, cleaning/mopping emergencies, and acts of violence. Olive can now check whether or not all of their SOPS are followed by embedding JARVIS into already-existing CCTV, which enables Olive to offer hassle-free, seamless, and comfortable living spaces for its customers. Being able to manage their properties remotely is one of Olive's goals, and JARVIS poses as the best solution for them in this regard.
Also Read: A Guide to Video Analytics: Features and Applications
A few AI-powered use cases that the hospitality sector businesses can implement are as follows:
FR Attendance Monitoring: The face recognition use case is used to record the daily attendance of all the employees in the business. This helps automate the attendance monitoring process, reducing record-keeping discrepancies. It also helps in analyzing the entry of unauthorized employees into the premises.
Intrusion Detection: The intrusion detection use case is significant for hospitality businesses. It aids in sending real-time notifications along with the video footage of the incident to stakeholders if any intrusion on the campus is discovered in the CCTV footage.
Cleanliness Monitoring: Keeping track of every nook and corner's hygiene standards is challenging for establishments with several locations. This is where the cleanliness monitoring use case comes in handy for operational managers. Detecting timely cleaning and mopping activities alerts managers if and when the operational processes are being carried out efficiently. The use case also ensures that the staff maintains the SOPs.
Fire Safety: The fire safety use case implemented in hospitality sector businesses can automatically send alerts if any smoke or flame is detected by any of the property's JARVIS-equipped CCTVs. Real-time alerts help quickly respond to emergencies, ensuring the safety of the customers and employees.
Crowd Gathering Management: The specific utilization of this use case in the hospitality business is to analyze peak hours in different establishments and for reception management purposes. Operational managers can take the required actions to regulate the crowd upon receiving alerts from JARVIS.
Demography Analysis: The demography analysis use case is helpful for businesses that have co-living spaces to monitor the gender segregation of specific areas.
Staqu's video management software (VMS) segregates the videos into various segments, making it easy for operational managers to access streamlined video footage upon receiving real-time alerts. The advancements in AI analytics that are redefining the level of service businesses can offer to remain competitive are making advanced, remote video surveillance much more appealing for companies in the hospitality sector, such as Olive Co-living. Hotels, co-living spaces, and various other establishments are using video analytics solutions, such as JARVIS, to lower risks, improve productivity, and provide the greatest possible customer experience in an effortless, cost-effective manner.
Final Thoughts
With the help of JARVIS's cutting-edge multi-site deployment architecture, hotel chains and other companies with numerous locations or branches may analyze cross-site security footage and recognize the value of their video assets. Organizations may drastically reduce the bandwidth needed for video processing while still receiving real-time alert messages from all locations and visualizing business analytics from many sites into consolidated dashboards.