The Ultimate Retailer's Checklist to Choose the Best Video Analytics Software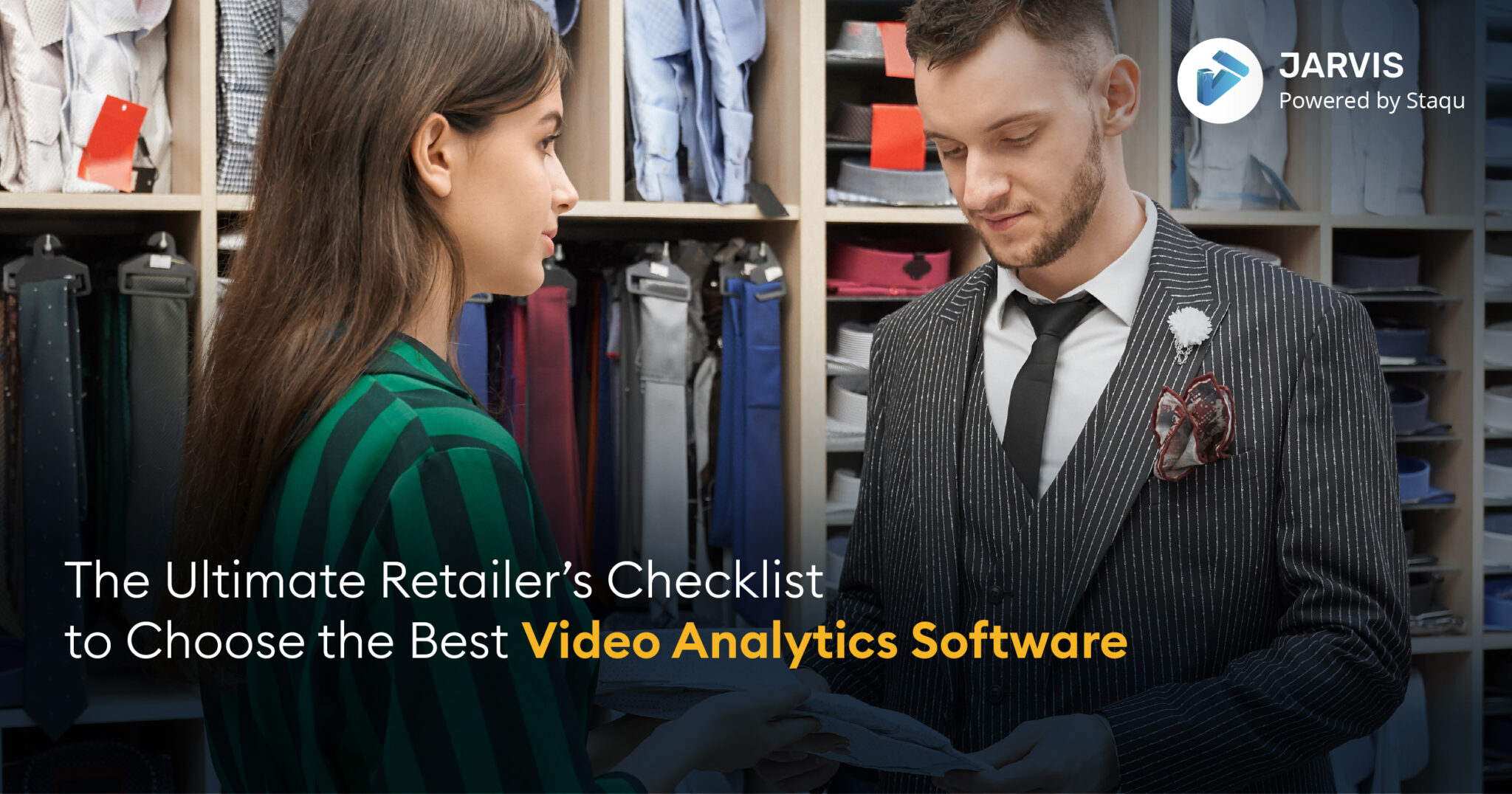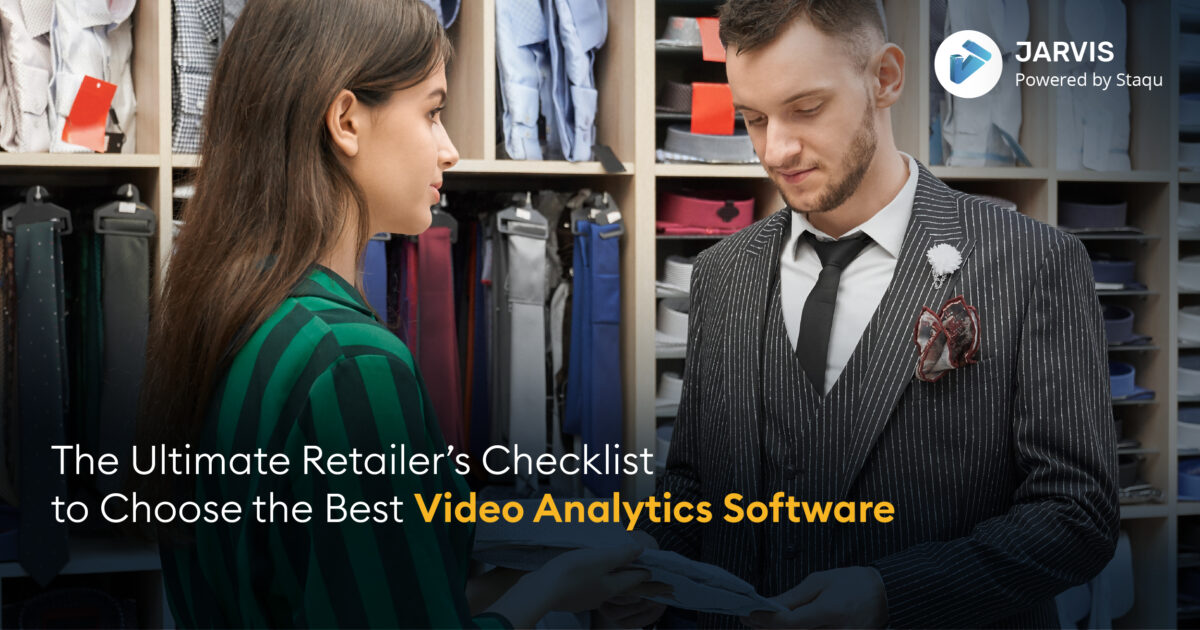 Retailers need to be flexible at all times to maintain a competitive edge, satisfy customers, and boost profits. Improving customer service, comprehending client demographics, optimizing store layout, and lowering inventory losses are some fundamental and timeless brick-and-mortar retail goals. Retailers are increasingly using digital solutions to accomplish some of those goals. Brick-and-mortar retailers, especially, need to focus specifically on digital adoption to gain a competitive edge in the era of e-commerce.
One area where companies can think about methods to leverage their existing investment is through video surveillance (CCTV) cameras, which are already used by the majority of retail businesses. Many stores have done this in recent years by deploying video content analytics software to fully utilize the information contained in the video footage that is acquired by their video cameras.
Innovative technology is revolutionizing brick-and-mortar retail
If you've ever worked in online shopping, you are aware of how simple it is to keep tabs on a customer's every step. You may add thorough tracking to your website by copying and pasting just a few lines of code using services like Google Analytics. With the tracking code in place, you have access to a multitude of client data, including demographic and geographical information.
Additionally, you can delve deeper into each step of the client journey. This implies that you can quickly spot any possible problems with your sales funnel. Once you've located a problem, you may test your fixes and observe the results in your analytics data almost immediately. The bottom line is that you can optimize to maximize conversions.
Brick-and-mortar stores haven't typically had access to this level of information about their customers. While retailers can obtain some information via point-of-sale systems and store loyalty programs (if there are any), these can never provide the whole story.
What about the potential customers who entered the shop but chose not to make a purchase? However, what about all the customers who haven't signed up for your program? Of course, loyalty programs can offer some incredibly useful information.
How can a brick-and-mortar store choose the best course of action for their company or gauge the effectiveness of their marketing? Don't you think it would be amazing if Google Analytics were available for the actual store?
Let's explore how brick-and-mortar stores are experimenting with the latest technology to improve business operations.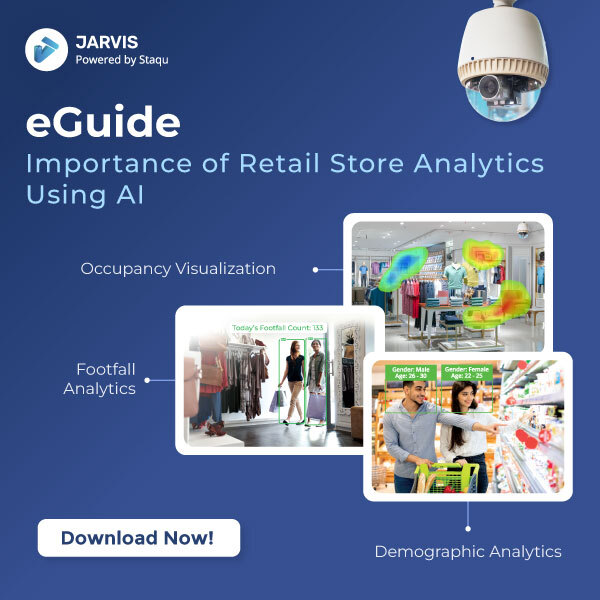 Download eguide
Related Read: Drive Targeted Marketing in Retail with Video Analytics Insights
Of course, video analytics, a crucial part of Retail Analytics solutions, is the finest method for tracking in-store activity.
With the help of video analytics, you can count consumers and follow their movements throughout the brick-and-mortar store using the feeds from your existing security camera system. The most precise method of counting individuals often involves cameras, and by using the feed from your current security cameras, no new infrastructure needs to be set up.
By employing artificial intelligence to interpret the camera stream, video analytics software like Staqu's JARVIS, can provide customer counts, build heat maps displaying high and low-traffic areas, and also provide additional insight about those customers, such as demographics.
Another major benefit of using video analytics is that it can track passing foot traffic, which is difficult to do with other methods. This is possible if cameras are placed at the front of your store. As a result, both your capture rate and conversion rate are understandable. In order to try and draw in more of that passing foot traffic, you can then employ a data-driven approach to improve your window displays. Understanding the amount of foot traffic in the area may also be a very useful piece of information when negotiating with the owner of the building or shopping center.
How to figure out which is the right AI video analytics software for your brick-and-mortar store?
There are a few crucial considerations to take into account as you choose an AI video analytics system for your brick-and-mortar store.
1. What precise objectives do you have for using AI video analytics?
It is essential to know the exact objective that your video analytics software has to offer. Do you want to learn about the total footfall in your store or the maximum occupancy areas on your store floor? The footfall can help you understand the flow and timing of traffic but occupancy will make you aware about popular aisles, products and store space. Both insights are crucial but both of them serve a different purpose in your sales and marketing strategy.
2. What purpose will the data gathered serve?
The idea behind getting insights is to ensure that the insights add value to your current processes. Data is irrelevant if it is not put to effective use. The video analytics software one opts for has to not only provide data but rather provide actionable insights that can be used by the business team to increase revenue and enhance customer experience. For instance, when Footfall data is reported through JARVIS, we provide the functionality to furnish average footfall for various similar time frames such as day of the week/ month of the year etc. This functionality helps our clients understand the patterns in footfall for a particular day/month/year and then use this information to implement targeted strategies specifically for lean or busy time frames.
3. How straightforward will the system integration be?
Retail Intelligence is a relatively new concept in the brick-and-mortar space. On top of that, video analytics is an even more new technology for many retailers to understand, let alone implement. Technology innovations are decided by the upper management but running them and utilizing them is the job of the mid-level staff. Video analytics software has to be easy to implement and run in order to make sure that a lot of retailers' efforts don't go into implementation instead of utilization. JARVIS's plug-n-play nature, streaming agent functionality, and easy-to-navigate dashboard ensures that the platform can be easily used by anyone. A dedicated account manager for every client delivers real-time assistance and resolution.
4. How will information be kept safe?
When dealing with camera feed, the need for security is foremost due to the sensitive nature of video data. The video analytics software one opts for has to ensure that the data at rest and data in transit is well encrypted in an end-to-end manner. JARVIS has the functionality to build a secure connection between the cameras and server through IPsec VPN tunneling. Another aspect of data security is role-based access control and data storage facility. With JARVIS, we ensure that the client's data at no point leave their IT infrastructure, as we provide the functionality of using computer vision to process video feeds on the client's private cloud server. The entire infrastructure at our end is deployed in the Linux OS environment to provide additional prevention from security breaches.
5. How is the user experience?
Any form of analytics data is useful only when it's accurate, easy to interpret, and actionable. JARVIS's dashboard is a live example of how analytics data can be presented in a laymen appropriate, user-friendly manner. A great emphasis has been placed on top-of-the-line data reporting through insightful graphs to showcase conclusive patterns. JARVIS makes it easier for users from all types of backgrounds to navigate through its dashboard smoothly.
Conclusion
Finding a solution that achieves your particular objectives and works well with your existing system is crucial in the end. You can completely transform how your customers shop in-store with the proper AI video analytics software. Curious to know how video analytics software can increase your retail store's revenue manifold?
¹Get in touch with us to know more!